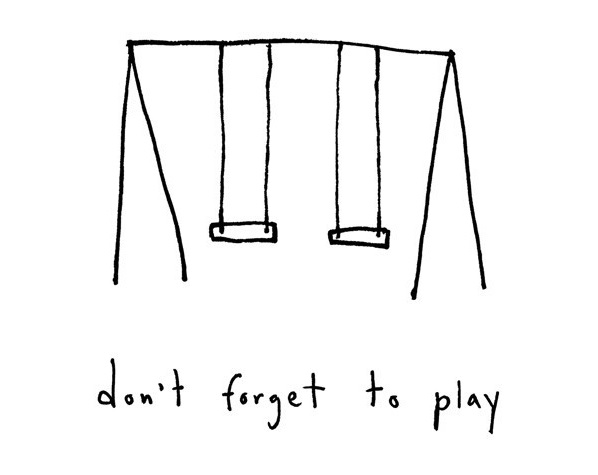 Experts have long studied the benefits of play for children (allows them to use their creativity while developing their imagination, dexterity, and physical, cognitive, and emotional strength). Play is important to healthy brain and social development. It is through play that children at a very early age engage and interact in the world around them. In his book Play, author and psychiatrist Stuart Brown, MD, compares play to oxygen. He writes, "…it's all around us, yet goes mostly unnoticed or unappreciated until it is missing."
It's easy to justify playtime for kids, its a normal activity for them – but what about us? The truth is that we -humans- are in fact the most neotenous species on the planet. Neoteny refers to the retention of immature qualities into adulthood. As in, humans retain the ability to imagine and play, and this gives us an evolutionary advantage in how flexible and adaptable we are. Bottom line meaning: we are uniquely designed to play throughout our entire lifetimes.
Unfortunately in our hurried lifestyle, playing can be seen as an indulgence – and instead this constant rushing around can be a source of constant stress and anxiety for some and can even contribute to depression for others. Play is crucial to our mental creativity, health and happiness. It lifts stress from us, refreshes us and recharges us. It restores our optimism. It renews our ability to accomplish our work. Plus, there is evidence that it does even more; play appears to allow our brains to exercise their very flexibility, to maintain and even perhaps renew the neural connections that embody our human potential to adapt and expand, evolve.
Play also allows us to be present in the moment – something that is so rare these days – that is the space of play, that lightness of being. When we embrace play, we claim a better quality of life for ourselves. We decrease stress. We connect better with those around us. We get out more and get more out of what we do. We find more fun and maybe even meaning. It's important to remember that play can be almost anything – art, books, movies, music, comedy, daydreaming, sports, storytelling, you name it.
Any time you think play is a waste, remember that it offers some serious benefits for both you and your family. As Brown says in his book, "Play is the purest expression of love."