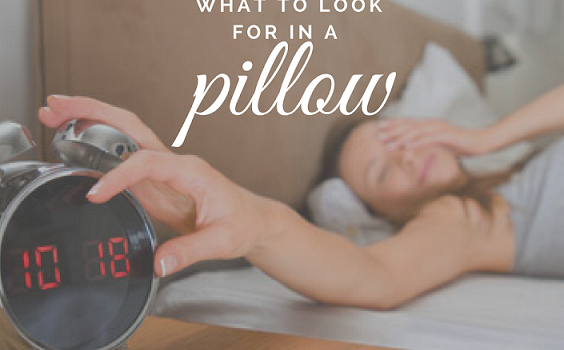 Nothing starts your day off better than getting a good night's sleep. And sleeping with the right pillow is key.
But think about it – when you bought your mattress, you probably put a considerable amount of thought into the purchase. Things like size, material, comfort and cost were considered – and it most likely was not an easy decision. But when was the last time you gave your pillow the same thought?
While comfort plays a big role in how we choose the perfect pillow, there's more to consider, especially when coming from someone like myself – namely support and alignment of your neck and spine. A lot of people think pillows are designed just for your head, but really a pillow needs to be designed to support your neck. Just like sleeping in the wrong position – if you're on the wrong pillow, you can actually end up with an injury (like a pinched nerve).
The following four tips will help you get the right pillow and a  great night of sleep:
1. Thickness
You always want your neck to be in a neutral position when you are lying on your pillow. If it is not in a neutral position it can irritate the muscles and nerves in your neck causing you to wake up with a possibly sore neck, headaches, numbness and tingling, and worse. No matter what avoid buying a pillow that is too big or too small for you. So how do you do that?
First, when you lie down in your favorite sleeping position, you'll want that pillow to fill the gap between your head and your shoulders. Then, you'll want to take a look at your posture. If you're lying on your back with your head on the pillow, your ear should be in line with your shoulder, not in front or behind it. If you're lying on your side, your spine should be close to horizontal; your head shouldn't dip down or be propped up too much. If you're stomach sleeping (TIP: Don't) – you really don't need to use a pillow.
2. Material
Because comfort is highly subjective, the material of your pillow is largely up to you. The key here is the right material that works with you that keeps you comfortable but also in proper alignment. Whatever you choose be sure the pillow is firm enough to stay a consistent shape. With some materials you will often wake up with the side you generally sleep on becoming almost flat. With the pillow being consistent in shape it allows you to retain a proper sleeping and neck position all night long.
No matter the material,  a pillow is likely to begin losing it's shape and support within about two years, when it's a good idea to purchase a replacement. And considering the dirt, oil, dead skin cells and dust mites that can accumulate in your pillow, you might want to replace it even more regularly, anyway.
3. Shape
There are many different shapes of pillows, from your classic that looks fluffy, to the more complex and contoured. The truth again is that it really depends on your sleep position as to what shape you need your pillow to be. If you sleep on your back, you'll need a thinner pillow, so your head and neck remain neutral and isn't thrown too far forward. A cervical curve in the lower portion of the pillow would also be beneficial to promote the normal curve of your neck. If you sleep on your side you'll need a firmer pillow to fill in the distance between the ear and outside shoulder – and a cervical curve would not be necessary.
Side Note: At True Health, we offer the Proper Pillow to our patients because it is the only pillow that I've found that allows you to sleep in proper alignment for both back and side sleepers.
4. Cost
Just because a pillow has a million features does not mean it is the right pillow for you. With that being said, when it comes to the price tag, anything $20 or under is probably cutting corners somewhere. A mid-range pillow is more than sufficient – and will probably run you $40 to $80, while anything over that mark is high-end luxury and you're probably paying for marketing and packaging more than comfort.